Project Description

The exhibition in City Museum "Omsk Art", Russia display graphic works, drawings, silk-screen prints, video projections and photographs of a dozen recognizable European artists permanently residing in Berlin, whose first language is Russian.
According to the idea of ​​the curators (Melnichenko/Zaidel), the exhibition should become a kind of material for the formation of the viewer's ideas about what is primary for creativity:global situation, linguistic affiliation or regional and personal problems, in which the artist is mainly involved.
Separately, the series of works by Berlin authors presented at the exhibition will determine the individual aesthetic regime and the range of ideas that excite the author.The only limitation in choosing works for the exhibition was the size of the sheets. It had to fit into a folder measuring 100×70 centimeters. Format that is possible to carry with hands. The project is carried out on personal funds, without the involvement of third-party organizations and funds.
This format of organizing the exhibition mentally refers the participants and organizers of the exhibition to the romantic 60-s of the last century, when artists from all over the world showed their art to each other using mail, building their own communications bypassing the control of museum institutions.
The exhibition include a round table on the topic "The Role of the Artist in the Digital World" and a lecture by Vasiliy Melnichenko "Anatomy of Art" dedicated to the philosophy of art as a systematic analysis.
Artist:
Inna Artemova
Katarina Voronina
Yana Smetanina
Aleksej Tchernyj
Andrey Krioukov
Rais Khalilov
Yulia Kazakova
Igor Zaidel
Vasiliy Melnichenko
Anton Layko
Elena Barkar
Nikita Alekseev
Jaroslav Broitman
Masha Naumova
Angela Arsinkey
Dima Zhe
Vladislav Zaitsev
Maria Piatkova
Vecheslav Osinskij
Curators: Vasiliy Melnichenko, Igor Zaidel
Date: 03.10 – 17.10.2019
Place: City Museum "Omsk Art".

The City Museum "The Art of Omsk" (GMIO) was created by the decision of the Omsk City Council 21.02.1991. The initiator of the creation is the famous art critic Vladimir Chirkov. The surge of the "avant-garde renaissance" of the late 1980s gave rise to the creation of the GMIO. The appearance of the new museum summed up the previous period of intensive artistic life of the city, synthesizing the achievements of the official and informal art trends.
Being a museum of cultural and anthropological profile, the GMIO exhibits works from the 2nd half of the 20th century. Particularly noteworthy are the works of artists of the "sixties", amateur and "naive" artists.
The museum is located in the caserne, built in 1823, in the Omsk fortress, 1768.

Link: #берлинскийтранзит

Exposure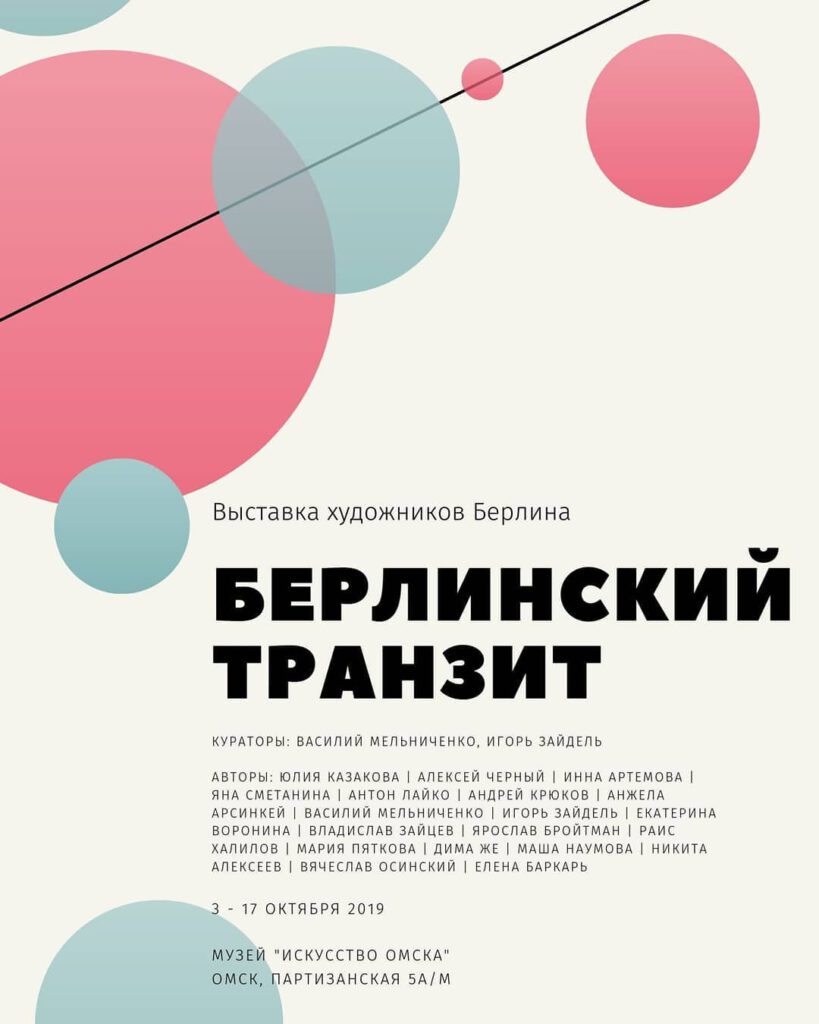 Impressions